High Temperature / Pressure Sampling System
We were asked for a solution to sample hot oil at 400° C at 60 barg. This is beyond the scope of our standard inline samplers. However our Engineering team provided the customer with a solution. Our panel mounted high temperature / high pressure sampler was supplied. This sampler cools and depressurises the sample before the customer dispenses it into the sample bottle.
This sampler is complete with pressure gauge to confirm a sample has been contained and a temperature gauge for the operator to check that the sample has been cooled before being dispensed in to the bottle.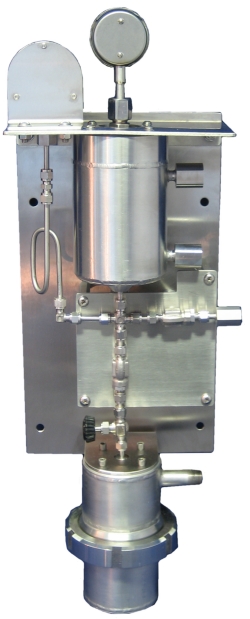 The sample is contained in a heat exchanger where it rapidly cools with cold water flowing through the exchanger.
In this system the sample bottle was contained within a stainless steel shroud with quick release coupling.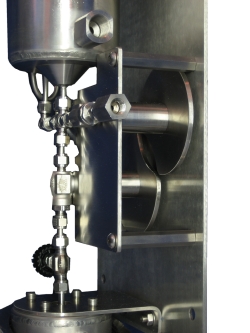 The operation is simple with 2 valves which are interlocked with rotating cams, ensuring the correct sequence is followed.
For the application 316 stainless steel was supplied but we are able to produce systems from Hastelloy where corrosion is a concern.
We are here to help our customers with their challenging sampling requirements.