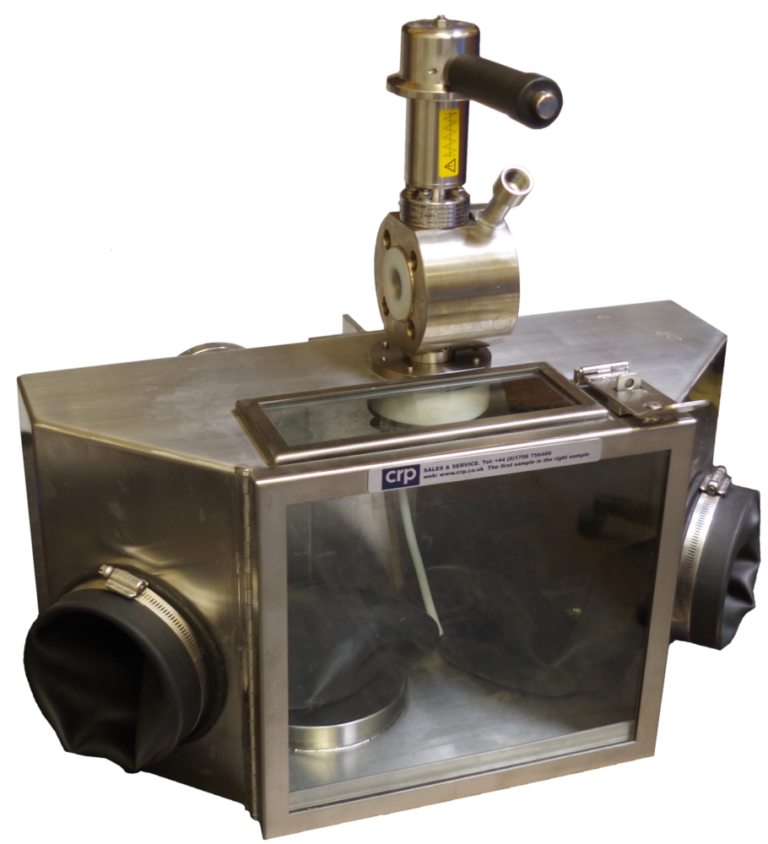 Bespoke Samplers
CRP manufactured sampling valves and systems to help customers safely take a representative sample from process lines, vessels, filter dryers, storage tanks etc. We offer solutions for liquid sampling, gas sampling and powder sampling. Our design team are able to offer unique solutions to challenging sampling applications, whether they be high temperature, low temperature, high pressure, corrosive, difficult to access and so on.
With access to extensive mould tooling we can produce special system designs with PFA moulded components providing the best solutions even for very corrosive processes where comparable designs machined from solid Hastelloy or similar would be very expensive.
To protect the operator and environment we can supply special containment cabinets, the one shown here has a door locking facility, glove ports with rubber gauntlets, a rapid transfer port to allow the sample bottle to be held in another container and transported to the lab without contact to the operator. Additionally, there were concerns that the sample might solidify so the whole sampling valve incorporated a steam heating jacket, whilst still being PFA lined for incorporation in the customers very corrosive and toxic process line.