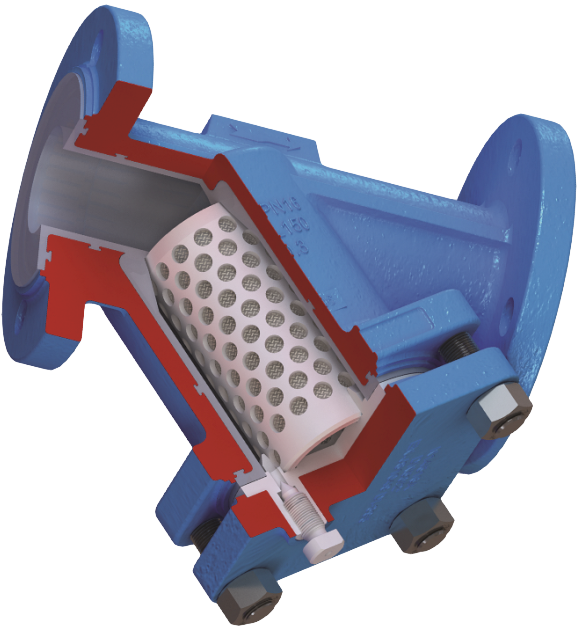 Strainers
We supply the Flowserve range of Atomac Y-type strainers. Like all the products in the Atomac range the strainers are manufactured with a PFA lining to provide optimum performance in highly corrosive processes. The strainer has a PTFE basket, which as a standard is provided with a 300 micron ECTFE mesh to prevent particles flowing past the strainer. Other sizes of mesh are available upon request to suit your application.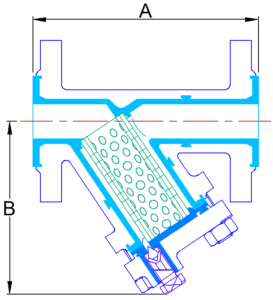 To Suit Pipework NB
Face – Face A
CL to end of basket B
Inches
mm
mm
mm
1″
25
165
125
1.1/2″
40
203
150
2″
50
229
165
3″
80
318
280
4″
100
368
305
6″
150
470
409
8″
200
600
595
The ASF strainer is designed to give minimum pressure losses using a large area PTFE filter basket. The basket is manufactured from two interlocking  PTFE cylinders with a filter screen sandwiched between them.
The filter basket can be removed for cleaning or changing without removing the strainer from the pipe line. The ASF strainer has a PTFE drain plug to drain fluid prior to basket removal. We can supply a drain valve to replace this to allow easy draining if required.
For a quotation or for further information on Strainers please contact our Sales Office.