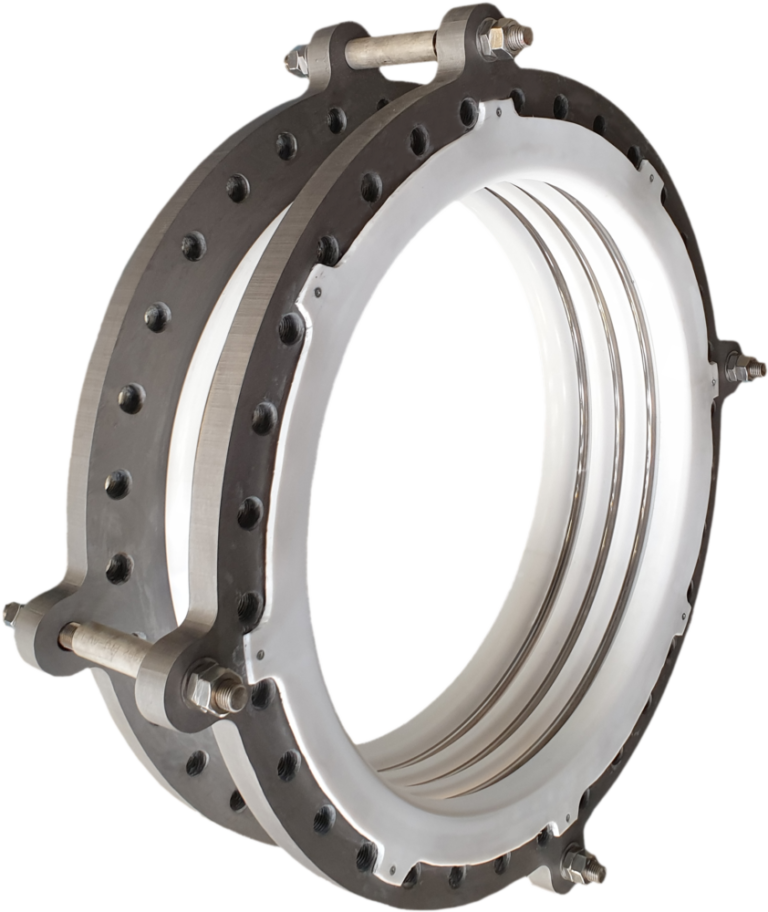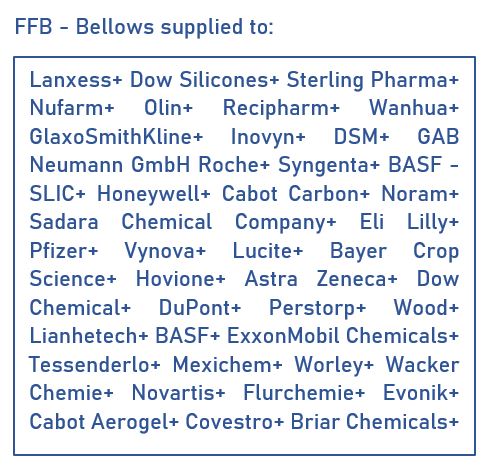 PTFE High Performance Bellows
The FluoroFlow Bellows (FFB) range has been engineered over 40 years to compensate for thermal expansion in pipelines, for the protection of fragile process equipment such as graphite, plastic or glass and the isolation of vibration hazards.  PTFE bellows come into their own for corrosive, high purity or hot applications. CRP has some unique manufacturing processes based upon the use of paste extruded PTFE, and a proprietary convolution process to secure a uniform wall thickness and highest pressure-temperature ratings in the market. These have been independently tested by the internationally recognised safety and quality group TÜV-Germany undertaking innovative long term (one year) internal pressure creep testing.
The Teflon® expansion joints range covers 22 sizes from DN25/1" to DN1050/42".  They are available with flanges according to ASME, DIN and JIS standard, as well as with individual special dimensions. CRP manufactures these bellows in both virgin and static dissipating PTFE.  FluoroFlow PTFE compensators in sizes DN25 / 1"NB up to DN250 / 10"NB  are available in extra heavy duty only.   For larger diameters there is a choice of two wall thicknesses—a heavy duty (HD) and extra heavy duty (XHD).  The bellows can be manufactured with 2 to 10 convolutions depending upon the size.  We are able to produce custom bellows with flanges of differing nominal bores, lateral only movements etc .
We offer quick leadtimes for the smaller sizes carrying some finished stock and component parts for others. Flanges can be supplied in carbon steel or stainless steel, ASME 150 and DIN PN10 / 16 being most common.
Near Universal Corrosion Resistance – Virgin or static dissipating Flurorflon® PTFE to all wetted parts for use with the most corrosive acids and reactive chemicals.
High Pressure Rating – With pressure ratings up to 16 barg / 232 p.s.i. some of the industry's highest, and working temperatures up to 200° C / 392° F.
No Residual Stresses – The bellows convolutions are formed at very high temperatures of 300° C / 575° F locking the PTFE shape by re-setting the memory effect, providing a stable and uniform structure to the bellows. Stresses are not introduced into the PTFE material unlike when forming bellows at low temperatures.
Optimized Bellows Geometry with Uniform Wall Thicknesses – Our bellows give the best compromises between pressure handling and flexibility. We manufacture our own PTFE tubes with very accurate & uniform wall thicknesses especially to provide the best bellows available.
Third Party TÜV Testing – Bellows have undergone long term (one year) internal pressure creep testing at 150°C / 302°F and pressure increase tests at 100° & 200°C / 212° & 392° F by TÜV in Germany, based on DIN EN ISO 9080 & DVS 2205-1 sh.21, as approved by Bayer, BASF, TÜV / IGRur.
Root Rings – PTFE bellows require external root rings to support the PTFE at high pressures, these are manufactured from 316Ti stainless steel as standard but can be upgraded to Hastelloy to overcome problems with stress corrosion cracking.
Vacuum Performance – Smaller bore bellows are suitable for use under vacuum, for large diameter bellows we supply internal root rings to provide vacuum resistance in stainless steel, PTFE encapsulated stainless steel, Monel, Hastelloy, tantalum etc.
Robust Design– Our standard range have sturdy tie rods with limiting sleeves to protect the bellows from excessive movements.
Special Bellows Designs

– We also supply hinged bellows, tie rods with spherical washers to limit axial movements and other special designs.
We also have a bellows questionnaire to assist on your product selection, please download a copy here.
Or for information on installation and operating please download a copy of our user guide here.