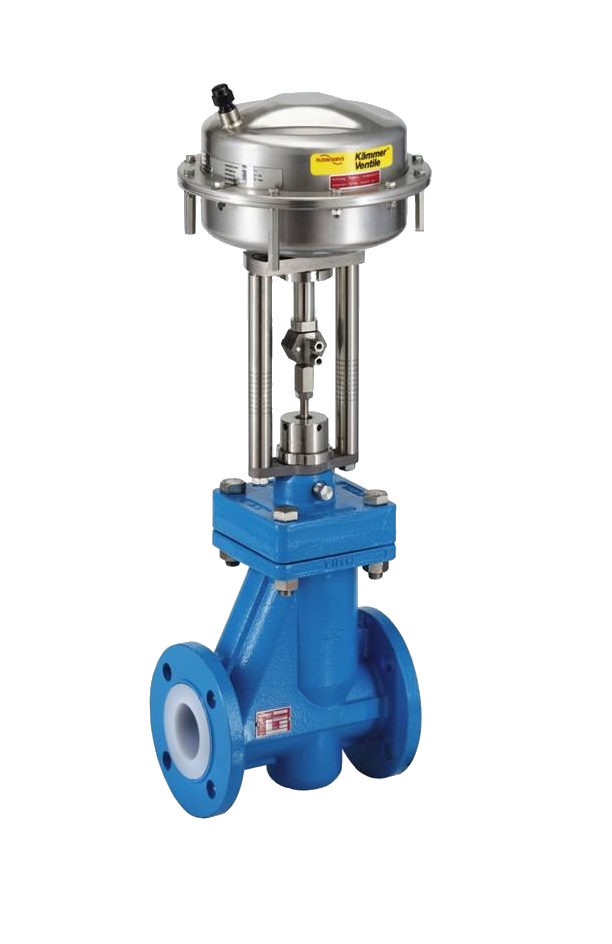 Kammer Control Valves
Control valves are used to very accurately throttle the flow of gas or liquid in a pipeline. They are used as part of a larger control system to maintain a desired characteristic, be it a set temperature, product mix ratio, pressure etc. The control valve is operated by a pneumatic actuator that in turn is controlled by some form of feedback loop, for example a simple pressure or temperature transponder to a complex site wide integrated computerised control system.
CRP offer the Kammer control valve which has a thick walled PFA lined body providing the best all round corrosion protection, they are lined in the same facility as the Atomac ball valves in Ahaus Germany so have a great heritage utilising the latest high quality fluoropolymer moulding processes. Where there is a concern of static build up within the valves, the lining can be supplied in static dissipating PFA.
Each control valve process application would typically have a minimum and maximum flow requirement, the range of Kammer control valves are available with a wide choice of 'trims' to provide the required flow control. By carefully selecting the right port and spindle design the right flow characteristics can be achieved. Several different trims are available for each size of valve.
The Kammer control valve is linear in operation based on the globe valve principle where the stem is lifted or lowered into the seat to allow more or less flow.
The stem is sealed using a specially designed modified PTFE bellows and is TA-Luft certified – ISO 15848 part 1 / Class B-C. Each bellows seal is tested at 120 degrees C to 6 barg to prove integrity.
The valve size range starts at ½"NB / DN15 up to 6"NB / DN150 and is available with ASME 150 or DIN PN10/16 flanges. The valve has machined 'T' slots within the body anchoring the lining to the casting and so is suitable for use from full vacuum to 16 barg whilst the temperature range is -29 to + 200° C. (Please consult the temperature / pressure chart for more info).
All valves are specially manufactured to order but Kammer keep extensive stocks of the component parts at their facility in Essen, Germany so we are still able to offer short delivery times.