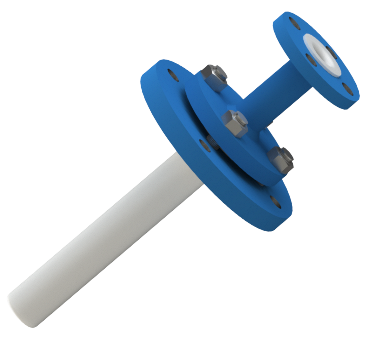 Dip Pipes / Entry Pipes
Dip pipes have a wide array of uses. Typically, they are used to charge a reactor below the liquid level, to extract samples from the reactor as part of one of our sampling systems, or to drain liquid from a vessel without the need of side or bottom outlet.
CRP dip pipes are manufactured from a carbon steel fabricated construction with a continuously lined paste extrusion PTFE liner. One length of PTFE tube lines and protects both the inner and outer diameters of the dip pipe. Our advanced manufacturing techniques enable us to produce dip pipes without any pinched or welded ends eliminating a potential weak point completely.
We can supply straight and curved dip pipes and with anti-syphon systems.
Our entry pipes are used to protect nozzles and introduce liquors into vessels where not much mechanical strength is required.